Florence Seager, 11, has pioneering scoliosis surgery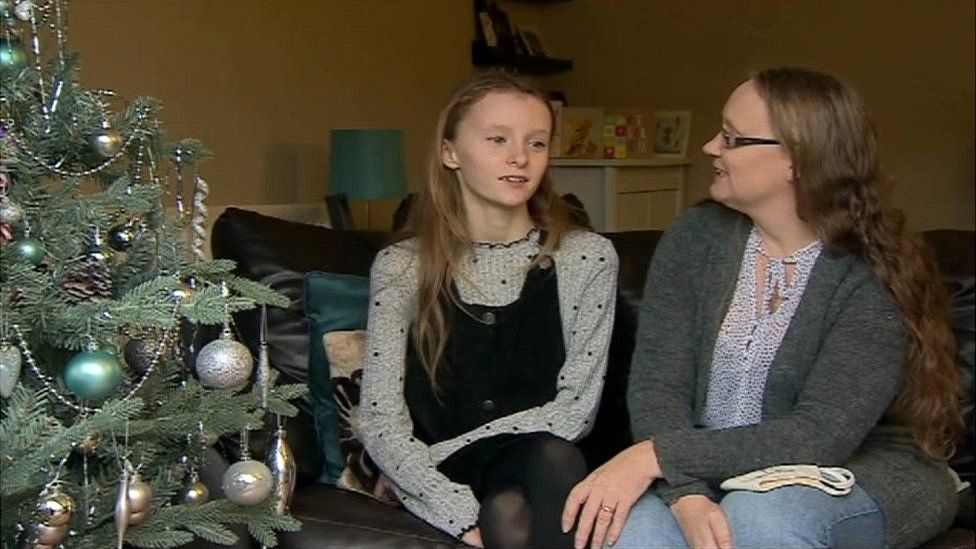 An 11-year-old girl with scoliosis has had a potentially life-changing operation to straighten her spine.
Florence Seager, from Burntwood in Staffordshire, had to travel to Turkey for the surgery.
Her family raised more than £50,000 for the treatment, which is not available on the NHS, through crowdfunding.
Before, Florence, a triplet, had to wear a brace for 23 hours a day, but the scoliosis was still causing her spine to curve.
"I feel happy that I'm finally fixed," she said.
"I've got the chance to finally do things that I've wanted to do."
She said she was still getting used to the feeling after wearing the brace for so long.
The procedure - known as vertebral body tethering - took place earlier this month and aims to straighten her spine slowly.
Developed in the USA, it is only suitable for some patients who are still growing and the Scoliosis Association has called for more research
into the long-term outcomes and benefits.
It is not routinely commissioned by the NHS, however without the surgery Florence would have needed a major operation every six to
nine months to fuse her spine, her family said.
During the 10-hour surgery, screws were fixed in the side of her spine to hold a tether to keep her spine straight, her mother Corrine
Seager said.


You can follow the story here. : ลงทุนน้อย ได้เงินจริง